Minuteman Flight Sequence
During the flight, the Missile Guidance Set (MGS) computer sends commands to control inflight operations and keep the missile on the precise course required to deliver the reentry vehicles (RVs) to their designated targets. During Stage 1 flight, the MGS controls missile direction by manipulating the Stage 1 nozzles. At the proper instant, the computer commands first-stage separation and second-stage ignition. Then MGS steering commands are sent to the second-stage thrust vector control (TVC) unit to keep the rocket on course. Second-stage separation and third-stage ignition occur at the appointed time and the MGS continues its task of navigating according to the program stored in the computer.
When the computer senses the missile has reached the correct point in its flight path, thrust termination (TT) ports in the front of the third-stage motor are opened for negative thrust. The post-boost vehicle (PBV) separates from the third stage motor and is maneuvered by the MGS to the pre-determined points of RV deployment. The RVs are then pre-armed and separated one at a time from the post-boost system. The RVs follow individual ballistic trajectories, reenter the earth's atmosphere, arm, and detonate according to the planned target profile.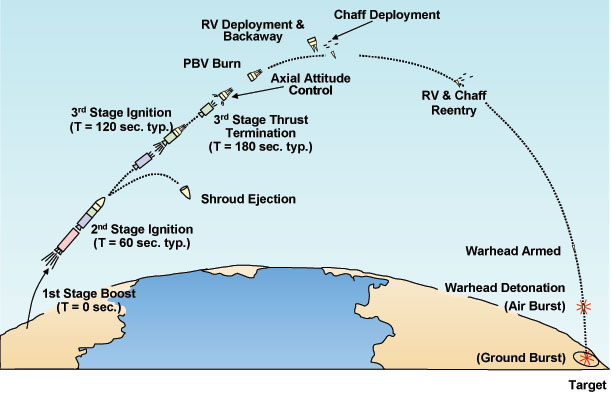 Flight Sequence