Nike Missile Site NY-49 Fort Tilden New York
Constructed during 1954-1955, Nike battery NY-49 was located at historic Fort Tilden, a former Coast Artillery site which had earlier guarded the eastern approaches to New York harbor. The four magazine configuration of this double Nike battery was similar to that of its "sister" site located on the other side of the New York Bight at Fort Hancock, New Jersey. During 1958, this site became the second in the nation to deploy the more advanced, second-generation Nike Hercules missile system.
The Nike missile site at Fort Tilden was designated NY-49. The site was shown to the media, and on the following day, March 1,1956, the New York Herald Tribune reported that Brig. General Charles B. Duff was the commander of the 52nd Anti-Aircraft Artillery Brigade, in charge of the anti-aircraft defense of the New York-New Jersey area. The tour of the Nike facility at Fort Tilden was conducted by Lt. Col. Mathew E. Chotas of the 505th AAA Missile Battalion.
The numerous Nike sites were coordinated by an Army Air Defense Command Post (AADCP) operating the "Missile Master" or "Battery Integration and Radar Display Equipment" (BIRDIE) system to ensure that only one battery engaged a target and that friendly aircraft were not targeted. Missile Master could up to 24 batteries, while BIRDIE could handle up to 16 batteries.
On July 4, 1960, the New York area Missile Master was activated and manned by personnel from the 52nd Air Defense Artillery Brigade (formerly stationed at Fort Wadsworth in Staten Island, NY). This Missile Master facility was located at the Highlands Air Force Station along with the U.S. Air Force 646th Radar Squadron. The 646th was a component of the "Semi-Automatic Ground Enviroment" (SAGE) system, based at McGuire AFB, NJ.
Fort Tilden's Nike missile site was half-converted from Nike Ajax missiles to the newer Nike Hercules missiles. Construction began in March of 1958, and was completed on July 1,1958.
On October 15, 1958, the remainder of Fort Tilden's Nike missile site was fully converted to Nike Hercules missiles. These missiles remained at Fort Tilden until they were removed in 1972.
Nike missiles were never fired from Fort Tilden. But the Nike crews did fire the missiles for practice. After 1961, the Annual Service Practice (ASP) was instituted. On an annual basis, Nike crews would travel to Fort Bliss, TX, to fire missiles at the McGregor Range. Batteries would only have a 48 hour notice, and were chosen at random so that each unit would always be at a state of high readiness.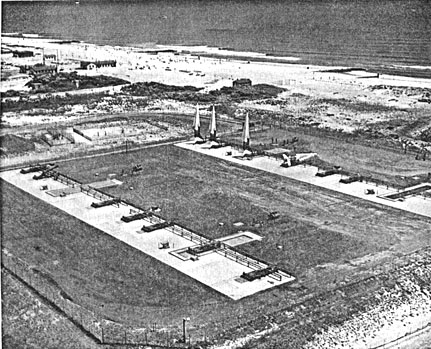 Nike Hercules Missiles at Fort Tilden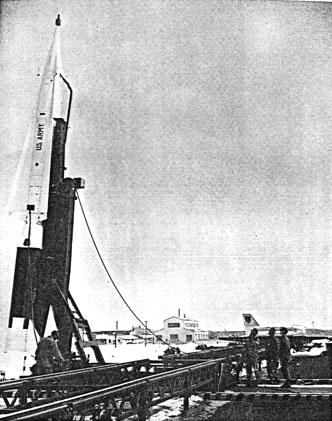 Nike Hercules Missiles at Fort Tilden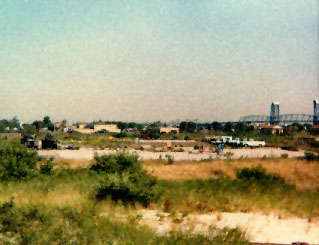 Fort Tilden's Nike Launch Site (1980s)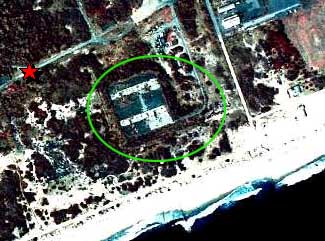 Aerial View of Fort Tilden's Nike Launch Site (circled)