Nike Missile Site LA-94 Los Pinetos CA - PHOTOS - Launch Area
The launching area contained the launching control area, launching section equipment, and the launcher loaders. The launching area was generally located at a distance from the battery control, and it was more often connected to it by means of the previously described interarea cable system. In brief, the launcher area provided for the maintenance, storage, testing, and firing of the NIKE missile. Most West Coast launcher areas were equipped with underground magazine storage similar to that found at the Angeles Forest sites.
The central feature of the launch area was the underground magazine and its associated launcher loader assembly. Storage racks held the missiles in the underground area using a system of locking pins. The missiles were then rolled to the elevator and onto the elevator launcher.
Each launcher loader included a launcher and five sections of loading racks (Figures 11 and 12). Three sections of racks were on the left side of the launcher and were used for storing missile- booster combinations. The sections on the right side of the launcher were used for storing empty launching and transport rails or rejected rounds. Each facility could accommodate four rounds, one on the launcher erecting arm and one at each of the stations flanking the launcher. Options were provided for the installation of additional racks. The entire unit was equipped with electric and hydraulic systems for testing and erecting the round prior to firing. The actual firing process was strictly regulated, and a multitude of safety measures were incorporated into the process.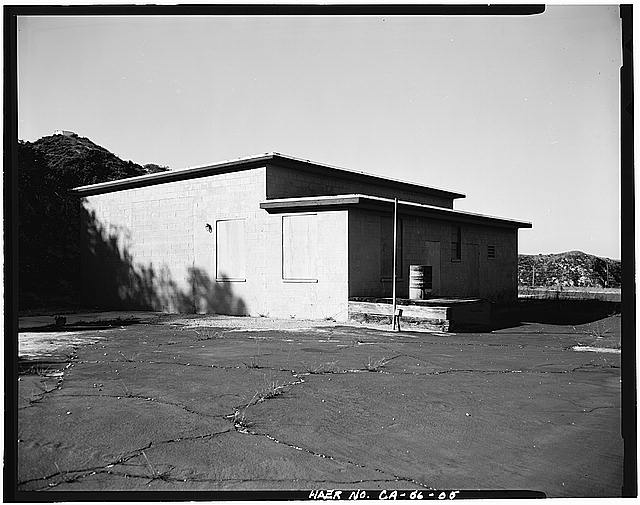 VIEW OF MISSILE ASSEMBLY CALLED 'FIRE HOUSE,' LOOKING NORTH, LOCATED NEAR GATE AT ENTRANCE TO LAUNCH AREA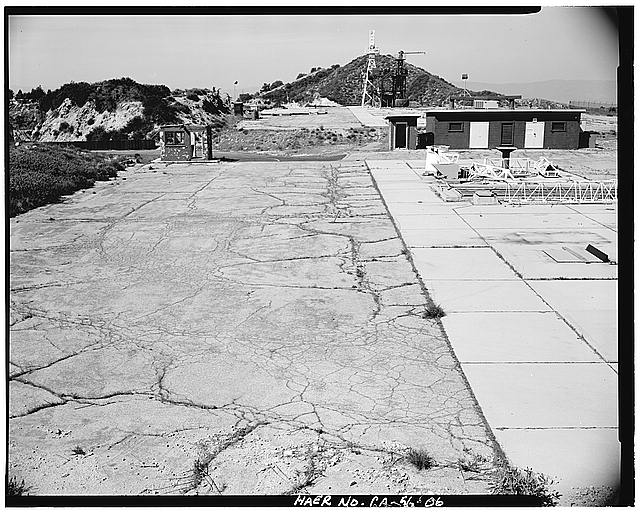 VIEW SHOWING GUARD HOUSE, STORAGE, AND TWO LAUNCH PAD UNITS, LOOKING NORTH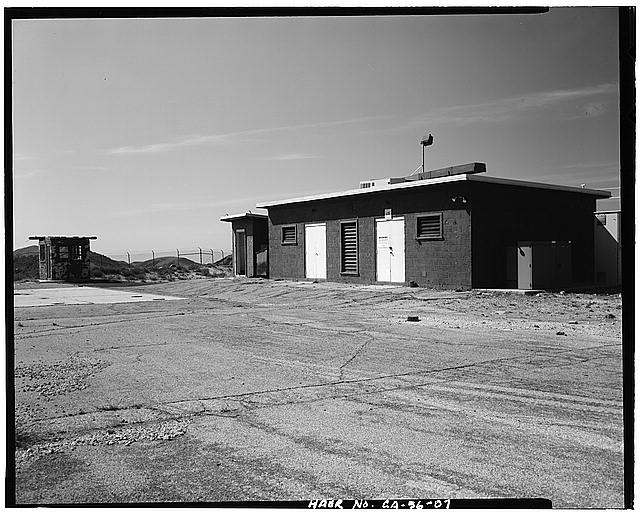 VIEW SHOWING STORAGE BUILDING/GUARD HOUSE AT LAUNCH AREA, LOOKING WEST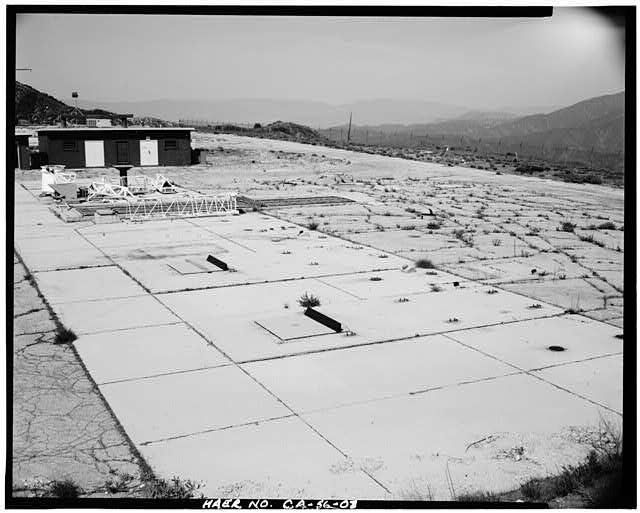 VIEW SHOWING STORAGE BUILDING ACROSS FROM LAUNCH PAD, WITH A SIDE VIEW OF AIR VENT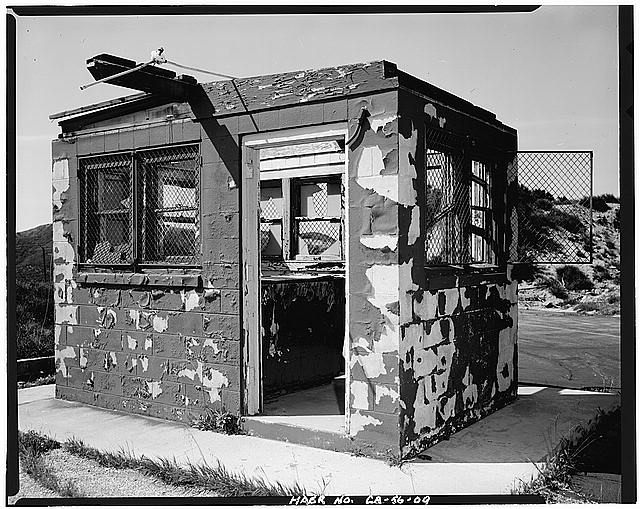 VIEW OF GUARD HOUSE AT LAUNCH PAD, LOOKING NORTH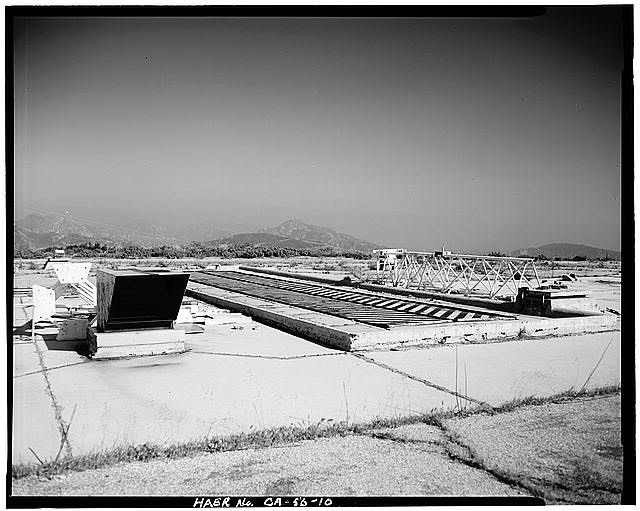 VIEW OF SILO DOORS, AIR VENTS, AND ESCAPE HATCH, LOOKING EAST. WHITE STRUCTURES BELONG TO CURRENT OCCUPANTS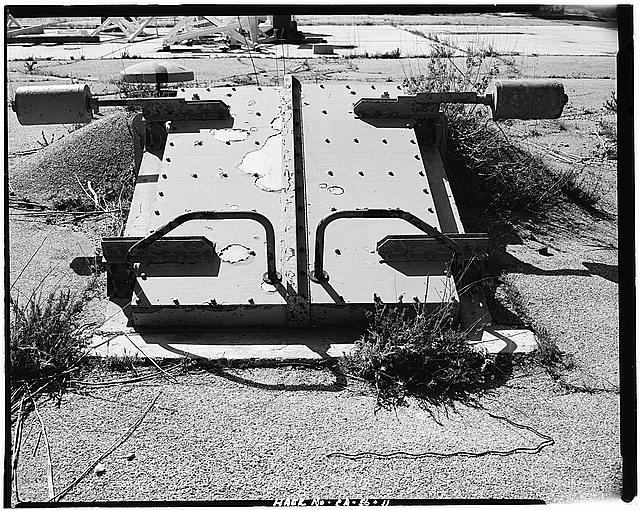 VIEW SHOWING CLOSED DOORS WITH EXPOSED COUNTERWEIGHTS, LOOKING WEST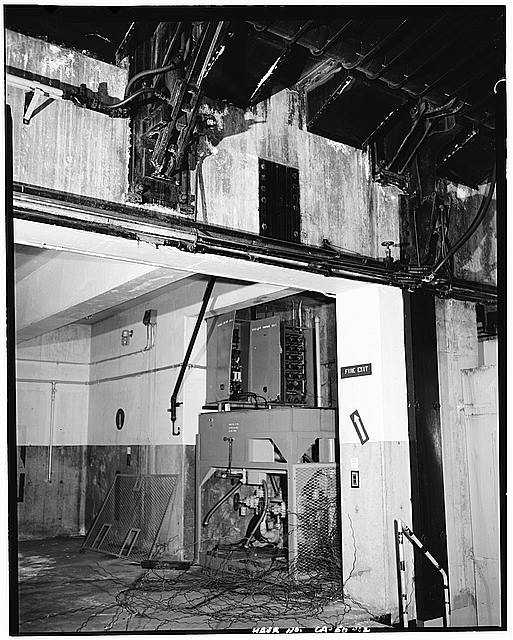 VIEW OF HYDRAULIC PUMP INSIDE SILO. ACTUATING ARMS FOR DOORS EXPOSED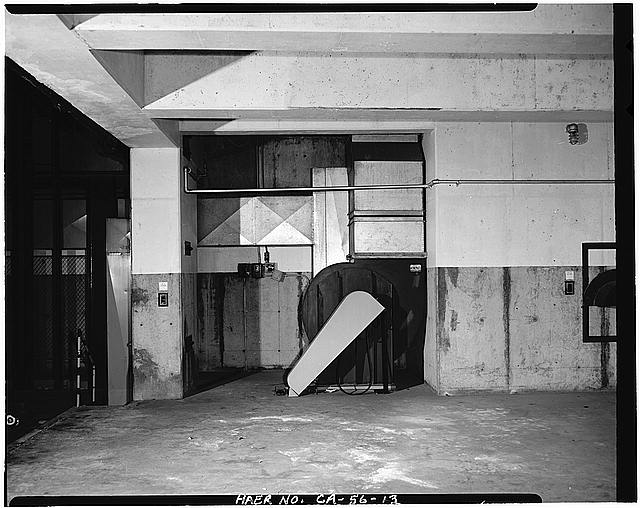 VIEW LOOKING INSIDE SILO, SHOWING ELEVATOR (ON LEFT) AND AIR CONDITIONING UNIT
Photos - Aerial Viewt
Photos - Launch Area
Photos - Control Area
Information about this Nike Site

Other Los Angeles Sites & LA Site Information
Other California Sites
Other Locations by State