Titan II Final Launch
When the Titan 2 rocket blasts off Wednesday, it will bring to conclusion the decades-long program that began as a missile in the United States' arsenal against the Soviet Union, launched NASA's Gemini astronauts and in recent years carried smaller satellites into space.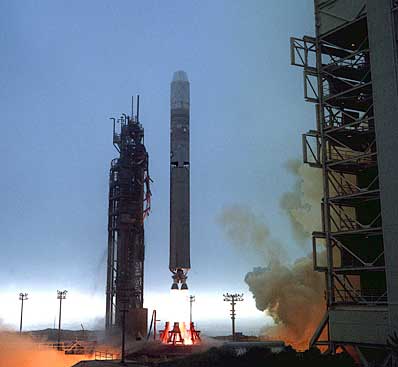 File image of Titan 2 rocket launching from Vandenberg Air Force Base, California. Photo: NASA/JPL


"We're seeing the end of another era come with this. Titan 2 has been a very good launch vehicle," said Scott Ballew, senior launch director for Lockheed Martin Astronautics.
"We're seeing the end of another era come with this. Titan 2 has been a very good launch vehicle," said Scott Ballew, senior launch director for Lockheed Martin Astronautics.
"As the heritage programs wind down, each launch is with a little bit of trepidation -- one step closer to the end of the program. But you still have to maintain the focus of the mission at hand, this one in particular, since we have been here before. We've got to make sure we don't overlook things, don't get into the mindset of 'we've been here, we've done that.'"
This launch has been delayed 33 months because of multiple technical problems with the DMSP satellite cargo, rocket and ground equipment. A countdown in January 2001 reached T-minus 28 seconds before the clocks were halted by a glitch.
Liftoff is scheduled for 9:17 a.m. local time (1617 GMT; 12:17 p.m. EDT) Wednesday from Vandenberg Air Force Base, California.
More than 140 Titan 2 Intercontinental Ballistic Missiles were built during the Cold War as part of the United States' nuclear deterrent force. When the military deactivated the Titan 2 fleet in the 1980s, it was decided to re-use some of the vehicles for space rockets.
"After they retired the Titan 2 ICBM fleet, recognizing the success they'd had with those vehicles, the government came back to the Titan 2 and said 'we want a reliable means of getting small satellites into orbit.' We pulled 14 of those old ICBMs out of Davis-Monthan Air Force Base (in Arizona) where they had been stored and refurbished them," said Tom Scanlan, Lockheed Martin's vice president of Titan programs.
The Titan 2 rocket launching on Wednesday is one of 14 ICBMs converted by Lockheed Martin from the once-nuclear-tipped weapons into peaceful, satellite-launching vehicles.
As part of the conversion effort, the forward structure of the second stages were modified to accommodate a payload, the liquid rocket engines were overhauled, the inertial guidance system was upgraded, the command, destruct and telemetry systems were developed and 10-foot diameter payload fairings were constructed to enclose the satellites during launch.
The particular booster making the final Titan 2 flight was stationed on alert in a silo at McConnell Air Force Base in Kansas from 1967 to 1986 before being refurbished into a space launcher.
"This is the last Titan 2 that we are launching. The exciting level is pretty high for this one," Scanlan said.
"Everybody feels a very close relationship to the history of the vehicle and we're all focused at making sure it goes out with the proud heritage that it has."
The 14th refurbished Titan 2 was not assigned a mission, so it will not fly. Officials said they are looking at the possibility of placing the rocket in the U.S. Air Force museum at Wright Patterson Air Force Base in Ohio.
The first of the converted Titan 2s flew in September 1988. It and the following two missions carried classified cargos. Later launches included the military's Clementine lunar probe, two government-owned ocean-wind research spacecraft and five polar-orbiting weather satellites.
"(Titan 2) was a warbird and served the country very well in that aspect. We took and converted these assets into space launch vehicles and has served very well with that. It has launched some critical payloads," Ballew added.
In the mid-1960s, another batch of Titan 2s were used to launch NASA's Gemini program, which bridged the early Mercury days to the Apollo lunar program.
"When President Kennedy decided to reach for the moon, they called on Titan 2 to be the vehicle to launch our Gemini astronauts," said Scanlan.
Two unmanned and 10 manned Gemini missions flew atop Titan 2 boosters from Cape Canaveral, Florida.
In all, Wednesday's launch will mark the 25th launch for Titan 2 space rockets.